Are You Sure You're a Lateral Thinker?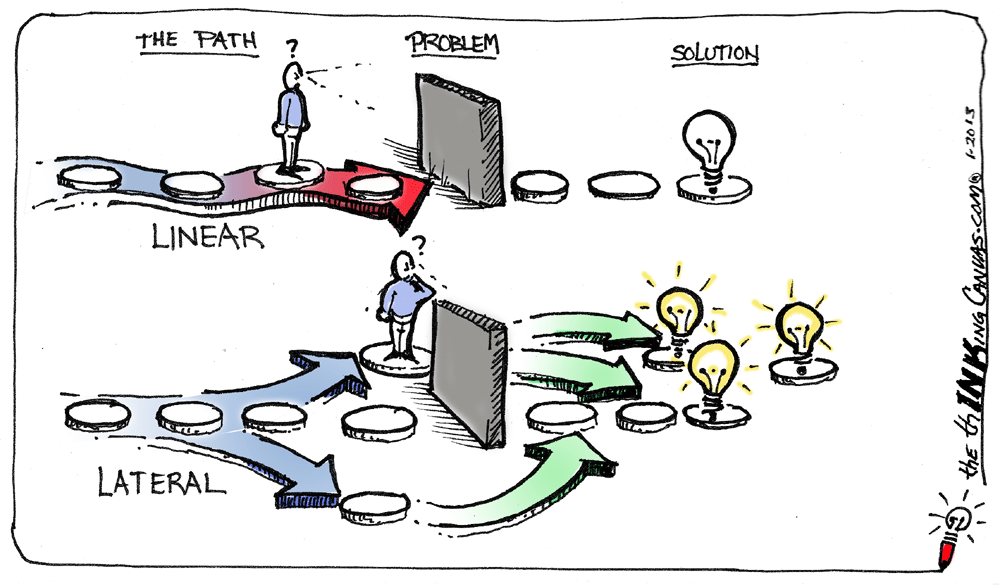 The Linear Thinking Trap
Over the years, as a corporate leader, I strived to replicate problem-solving skills in my staff.  Today, as an executive coach, I discuss with clients the importance of having a reliable methodology to work out creative solutions – lateral thinking!
What I find most often is that people approach opportunities linearly.  That means the person will step out onto the road and start walking the path right away.  And they feel a sense of progress quickly because they advance…right now — without hesitation or second guessing — they move forward.  Then, as they walk along the road, and a problem arises, they stop what they are doing, set their tools on the ground, put their hands on the problem and start fixing it.  Next, once a solution is found, they pick up their tools and start walking down the road again, seemingly making more progress.
This idea, where a response to a step must be first elicited (the thing gets fixed) before another step is taken, is a linear thinking progress.  It's very appealing because you can get started today, in the heat of the moment, with no real planning.  Progress (moving down the road) is observable and measurable.  It can even be reported to upper management, "See, I was here yesterday and I'm now here today. I'm making progress!"
Oddly enough, some leadership teams even reward this type of behavior. After all, they too can report immediate progress up their chain of command. This must be a win-win, right?
How Lateral Thinking is Better
Linear thinkers get started down the road, walking the path right away, then address problems as they block the road.   To address the roadblock means stopping forward progress and fixing the problem before starting down the road again.  Lateral thinkers, before taking the first step, consider all the potential roadblocks that might pop up along the way.  They plan resources and prepare fixes preemptively.  They even create alternate routes when needed — again, before taking that first step.  This is profoundly better since progress will be exponentially faster — you won't have to stop along the way to fix problems.
We can see lateral thinking at work in the parable of the man building a tower or a king going to war against another king.  The lesson is found in Luke 14:28-32 and addresses the cost of being a disciple.  Jesus calls us to think very thoroughly through our situation BEFORE starting the work or making a decision.  This lateral thinking, addressing "problems" BEFORE they arise (in this case, how to war against God and win…which can't be done) through an indirect and creative approach, uses reasoning that is not immediately obvious and can't be obtained with step-by-step logic.
Lateral thinkers measure twice and cut once.  They estimate possible and even probable risks to achieving the outcome.  They create risk mitigation strategies before taking that first step.  They look down the road and determine where the pot holes might be, long before setting out on the journey.
Why More People Won't Use Lateral Thinking
This is not the most favorable way to approach an opportunity for most people.  Why?  They feel like they are already falling behind before they even get started.  There is no apparent progress in the first few days (or weeks or months, depending on the size of the opportunity) because they have taken time to plan and strategize before getting started.  Saying, "I haven't started the project yet. I'm still in the planning phase," doesn't go over well with impatient leadership teams and short-sighted cultures.
The truth is, lateral thinking takes practice.  Like working out a muscle you haven't used in a long time, it may even be a little painful at first.  In the end, the total time to achieve the goal is accelerated.  Yes, you start the project later than a linear thinker but you won't be stopping along the way to address problems that pop-up.  You already planned for the problems at the beginning.  You create momentum and complete the project in a much faster timespan.  The overall project quality is maximized. Best of all, stress is greatly reduced because you won't ever be surprised by issues.  You will have already planned for them.
Shawn Sommerkamp is a motivational speaker and Executive Coach with 20+ years of Fortune 100 leadership experience.  He founded Motivationeer™ to coach Christian professionals how to bring the power of Christ's word, as the foundation of career success, into corporate and small business America.