Planes, Snakes and Microphones
What Really is Our Number One Fear?
Jerry Seinfeld once told a very funny and now well-known joke about public speaking: "According to most studies, people's number one fear is public speaking. Number two is death. Death is number two. Does that sound right? This means to the average person, if you go to a funeral, you're better off in the casket than doing the eulogy."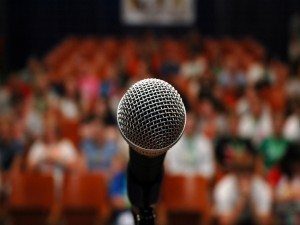 He's referring to Glossophobia, the technical term given to the intense fear of public speaking, also known as Speech Anxiety. Most people afraid to speak in front of even a few people tend to have the lesser phobia called Social Anxiety Disorder.
For years writers have said fear of public speaking was ranked number one. This came from the 1977 edition of The Book of Lists by David Wallechinsky, Irving Wallace, and Amy Wallace from the article titled, "The 14 Worst Human Fears." The survey was not statistically claiming people fear speaking publicly more than they fear death. It only claimed that more people stated they were afraid to speak publicly than those who stated they feared death. It was a 41% to 19% comparison.
In lesser known yet statistically accurate surveys, the right question was asked: "What is your greatest fear?" From this dubious question we find Snakes (ophidiophobia), Spiders (arachnophobia) and Airplanes (pteromerhanophobia) holding a place in nearly every top five list. Fear of public speaking has slipped to number four and in most cases death is not even in the top 20 ranking.
Fear of public speaking is a very real thing no matter its rank. It may happen in the classroom where a student secretly hopes she is never called upon. It also happens in the workplace, quite frequently, when a manager gets a dreadful feeling at the thought of presenting to supervisors. Ever been asked to lead a conference call you were not expecting? And who can't relate to jitters during a big interview?
How Important is the Skill of Public Speaking?
In a professional marketplace best categorized as hyper-competitive, learning how to speak boldly and confidently in front of a crowd is fast becoming a significant differentiator. It represents both the "I" for Image and "E" for Exposure in Harvey Coleman's work "Empowering Yourself, The Organizational Game Revealed" – Performance being the third unwritten rule of career success.
Here are a few of my most successful tips that ward off public speaking fears. All of these may not suit you. Some may be useful while others not so much. Take what works best for you.
Commit Your Speech to the Lord
Go before God and ask for His help. God grants the victory. Commit what you are doing to Him. Proverbs 16:3
Write It Out Word for Word
I've met some great speakers over the years. Some of the best use this technique. They write out the speech, word for word, as if writing a book. This may not be required if you are speaking on a technical topic, informative, but if you have a persuasive speech, it's a powerful approach. Of course, you will want to run through it a few times, at length. And remember, one page using size 12 font is about five speaking minutes.
Practice in Front of a Mirror or Family Member
Before you shriek in horror give one or both of these a try. Look yourself or your family member in the eye as you present. This will do wonders for allaying your fear. It will also take a few stops-and-starts to get the hang of it – great practice for a public speech.
Deep Breathe Just Before the Speech 
Called the 1-2-3 method, it's a brief 60 second centering technique to calm your body and focus on the present. Take a deep breath and as you exhale, visualize and say to yourself the number three, three times. Take another deep breath and do the same, using the number two, saying it and visualizing it three times as you exhale. Do this one more time with the number one. Make sure your breaths are long and deep and exhale slowly.
Remember the Audience Wants You to Succeed 
Before you stand in front of them, do a short visualization exercise. Picture the audience routing for you, smiling, interested. It is actually true. Everyone wants you to succeed. As you succeed, they succeed. Drawing up that mental image helps calm the nerves.
Connect With a Few Engaged Listeners
There's nothing like seeing your presentation land well on an audience. And yet, sometimes even the best speakers have a good portion of disinterested. Find a few engaged attendees and make sure to look at them often. It will encourage you all the way to the finish.
Take It Slow Yet Energetic
It's very easy to let your energy overpower the tempo of the material. It's always best to cut down the length of the speech and take it slow. Be articulate with your words. Use dramatic pause to capture their attention. Walk around as much as your space allows. Ask rhetorical questions and give a short time for their minds to answer. Let your energy be channeled through a strong voice but moderate speed.
Join a Public Speaking Group
Ever hear of Toastmasters? If you haven't, they are a nationwide organization established to help people practice their speaking. The group interaction allows for constructive feedback and valuable support, especially to those confronting their fears. Look for a local chapter and give it a try.
Hire a Coach
Whether in a high profile executive position, a Bible Talk leader in your local church, head of the PTA or any other situation that requires improved oratory skills, consider hiring a speaking coach. This will help remove some of the blockers keeping you from embracing the speech as well as help hold you accountable to growth opportunities.
If you have a fear of public speaking, you are in good company. Start putting these helpful tips into practice and you'll experience a new found confidence.
Shawn Sommerkamp is a motivational speaker and Executive Coach with 20+ years of Fortune 100 leadership experience.  He founded Motivationeer™ to coach Christian professionals how to bring the power of Christ's word, as the foundation of career success, into corporate and small business America.