Workplace Grace or Performance?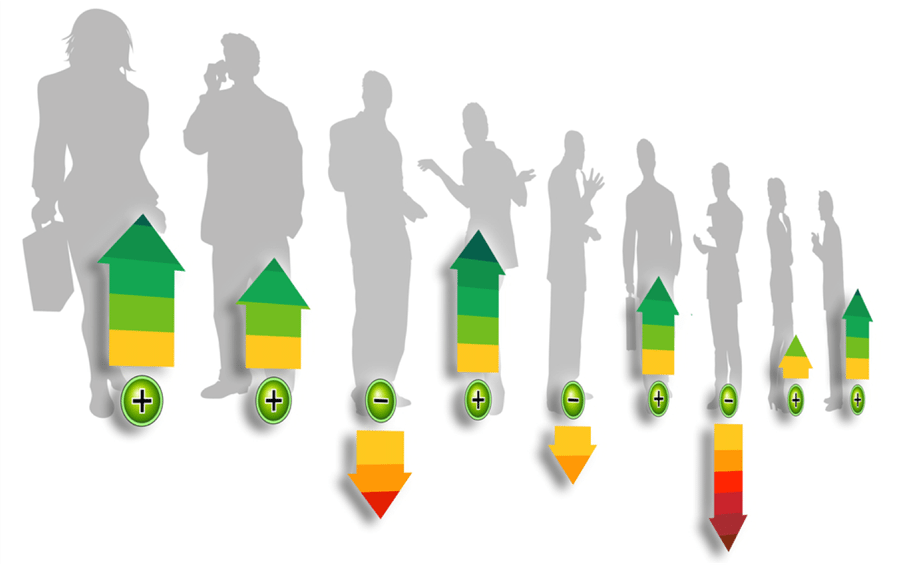 We Live in a Performance Oriented Society
Living in a 'high performance oriented' society, there are certain positives to a metric-driven workplace culture.  We tend to value training and development, competitiveness, direct communication and formal feedback.  While these are extremely beneficial, there is a downside: This culture also tends to care more for what a person does over who one is, placing a high value on materialism1.
There are also those who are 'low performance oriented.'  For this person, a greater value is placed on family relationships, harmony with the environment and character over accomplishment.  These sound almost virtuous, Christ-like.  On the downside, however, they also tend to view formal feedback as judgmental and discomforting, preferring indirect, even subtle communication1.
To excel in either corporate or small business America, adopting a high performance orientation is practically essential.  After all, what kind of entrepreneur would you be if managing profitability, cost, revenue and growth were all approached from a 'low performance orientation' mindset? How far would your career advance if you shifted your focus away from achievement and financial success?
Performance Oriented Work Creates Conflict in Many Christians
For many Christians, this scenario may create internal conflict.  To some it becomes an argument of ambition over contentment, grace over performance, greed over generosity.  And since there are generally two times each year when companies conduct employee performance reviews, Christians are polarized on how to best communicate improvement opportunities and growth directives.
Where should our mindset be?  Is performance really opposed to grace?  Do we make it more difficult to walk like Christ with a constant striving for measured improvement?  Is being ambitious a sign that we are not willing to be content?  Do we make it difficult for others to find Christ having this seemingly capitalistic mindset?
The best place to gain such wisdom is with Jesus.  Which side of the line did he walk?  Was he more about grace or performance?
Was Jesus More About Grace or Performance?
On one hand, He came to fulfill the law.  That meant he didn't break a single covenant command.  He dotted every 'i' and crossed every 't'.  You might say he had to perform without flaw.  He was on a mission, a well-timed and thoroughly detailed mission.  When Pharisees in Luke 13 told Jesus to go away, that Herod wanted to kill him, Jesus said, "Go tell that fox, 'Behold, I cast out demons and perform cures today and tomorrow, and the third dayI reach My goal.'"  Jesus was a goal driven man indeed.
And yet we know He also came bringing grace.  We see him extend this grace freely to the woman caught in adultery, the paralytic on the mat, in the parable of the prodigal son and ultimately as he hung on the cross asking forgiveness for those who knew not what they were doing.  He touched the dead, 'worked' on the Sabbath (as the Pharisees accused) and spoke to a Samaritan woman when he was allegedly not supposed to.  He often chose grace over protocol.
This is the power of His life.  Jesus embodied perfect performance.  He embodied perfect grace.  He was able to strike the perfect balance between the two.
John 1:17
For the Law was given through Moses; grace and truth were realized through Jesus Christ.
Truth is standard, customary, to the point; grace is relational, free and inviting. In one man Jesus proved grace and truth as complimentary without being contradictory.
In truth, He told the Rich Young Ruler to sell all his possessions and give them away to inherit eternal life.  He told the man who just lost his earthly father to "Let the dead bury their own dead, you come follow me."  He told the Canaanite women, "It is not right to take the children's bread and toss it to their dogs."  He called the Pharisees a family of snakes who speak their father's native language (that father being Satan).
Do these signify the ungracious, harsh Jesus? By no means!  Jesus was able to speak the truth in perfect grace!  How?  How was He able to accomplish what may seem impossible to us?  How could he say such devastating things while fully embodying grace?  The answer is simple:  LOVE!
Jesus "looked at the rich young ruler and loved him".  He knew the man with funeral plans was just making excuses so he willingly called him on it. He helped reveal to the Canaanite woman, and all those watching, that her faith would be richly rewarded.  And he showed the world through the Pharisees that (a very ungracious) self-righteousness was to be condemned above all things.
He spoke the truth in complete grace because He loved.  And that's our answer.  When it comes to the question of grace or performance in the workplace, we say yes to both.  And we do so by saying yes to Love!  We love God, we love ourselves, and we love our neighbors.  We speak the truth in love.  We extend a gracious attitude, with gracious words and gracious deeds in all situations.  This is what sets us apart.  We are full of both grace and truth because we love…especially in a loveless environment like the American marketplace.
How Can We See Performance Management in a Healthy Way?
That means we can set amazing goals (for ourselves and our subordinates) and strive diligently to achieve them, all while being gracious to everyone including ourselves.
Consider this:  If an employee is not performing well in his position, (which you will confidently know once clear employee performance goals are established) how gracious would it be not telling him so?  What favor are we doing hiding the truth about his abilities?  What opportunities do we deny him by refusing to give him direct and honest feedback about his performance, (opportunities in another role or perhaps even another company)?  To do so is grace and truth at work!
And when confronted with our own poor performance, how well do we accept feedback?  How willing are we to better ourselves professionally when told of a shortcoming?  How quickly do we accept input and then strive for change?  When we do, we are graciously accepting and acting on the truth.
We have a chance, as followers of Christ, to make a real difference in the American marketplace.  We can impact every colleague by living in a state of balance between the power of grace and the power of truth in love.  We pursue leadership roles, taking on more responsibility, so we can make this impact at higher levels in the organization.  We inspire our employees and we hold them, and ourselves, accountable to a character not willing to fall short of a truly higher calling, the most excellent way of love!
Shawn Sommerkamp is a motivational speaker and Executive Coach with 20+ years of Fortune 100 leadership experience.  He founded Motivationeer™ to coach Christian professionals how to bring the power of Christ's word, as the foundation of career success, into corporate and small business America.
1 Cornelius N. Grove (2005). Worldwide Differences in Business Values and Practices